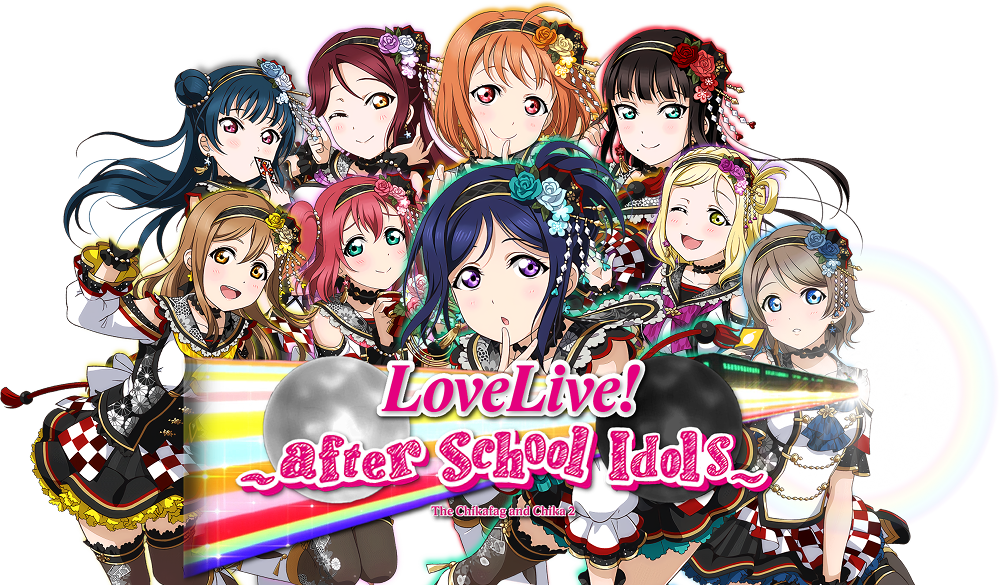 Love Live! ~After School Idols~
A downloadable visual novel for Windows
Love Live! ~After School Idols~ is a visual novel fan game and sequel to
The Chikafag and Chika.

Story:
Taking place shortly after the first game, Uranohoshi Girls' High School is relaunched with new students and teachers, who seem to focus more on having fun than taking the school seriously. There's a big party to celebrate the relaunch of the school at the end of the first week of classes and everyone's looking for someone special to bring as their date.


Key Features:
Be The Chikafag:
Make choices throughout the game to determine who's route you end up on.
Animated Custom Made Talking Expressions:
Always know who's talking at all times.
Music and Voice Clips from the Anime and School Idol Festival:
For that authentic Love Live audio experience.
Fine Tuned Sprites that are 2X the size of The Chikafag and Chika's:
Bigger and better with even more expressions and blinking.
Real Time Text Advancing:
Clicc and the next line of dialogue will appear.
Aqours and μ's girls are both featured prominently:
Your favorite girl is here, unless your fav is a PDP, sorry.
5 Intertwined Episodes with Multiple Routes focusing on the girls of Love Live.(Including hidden routes for some who may not be mentioned below.)
Episodes:
Episode 1: Idols Become Rivals
Chika and You are hanging out in the club room after class reminiscing about the days when Aqours practiced together after school. One day, they get surprise visitors to the club room and Chika can't get enough of them..
Until she realizes they're more interested in Chikafag than her.
This Episode focuses on: Takami Chika, Watanabe You,
Kousaka Honoka, Minami Kotori

Episode 2: Little Demons Play

Hanamaru and Ruby are thrilled to have Hanayo and Rin in the same class as them, but Yoshiko feels left out when Ruby and Hanamaru stop paying attention to her.
With the help of someone who's also starting to feel left out, Yoshiko concocts a scheme to win them back.
This Episode focuses on: Kunikida Hanamaru, Tsushima Yoshiko, Kurosawa Ruby

Episode 3: Eclipsed Hearts

Two broken girls.
One burdened by regret and bottled up emotions. She's tormented by students talking about her behind her back, including former friends.
Despite her sketchiness, can Chikafag still believe in her?
The other one despises her and blames her for everything she has lost.
Unable to let go of the past, she needs help feeling whole again.
This Episode focuses on: Sakurauchi Riko, Kurosawa Dia

Episode 4: Lost and Found
Mari said something she wasn't supposed to have known around Dia and gets chased by her. The hall monitor—Umi—notices the two running in the halls and chases after them. One thing leads to another, and suddenly Chikafag, Mari, and Umi end up lost in a place they don't recognize, with seemingly no way back home.
This Episode focuses on: Ohara Mari, Sonoda Umi

Episode 5: Kanan's Route
"We just.. don't suit each other, right?"
It began with a chance encounter on the way home from school one day.
The Chikafag and Kanan, who previously were not close to each other at all, start hanging out together. They have nothing in common, and everyone's quick to remind them. Despite that, they enjoy spending time together and their friendship is on course to blossom into something more.
How far from your comfort zone are you willing to go for true love?
This Episode focuses on: Matsuura Kanan
Minimum Requirements:
A working Windows 64bit PC and 16 GB of Storage
Recommended Specs:
A Windows 64bit PC that runs like a dream and a SSD.
Random Questions and Answers:
- How long is the game in total?
About 45 hours+ if ya go for all the endings.
- Do I have to read the first VN before playing this one?
No, there's a full recap for newcomers.
Follow me on twitter for information about future projects and random love live related tweets https://twitter.com/The_Chikafag

The filesize in total is 8GB so I didn't directly upload it here, choose between either Mega or Google Drive to download, both links contain the exact same files.

| | |
| --- | --- |
| Status | Released |
| Platforms | Windows |
| Author | Chikafag |
| Genre | Visual Novel |
| Tags | Anime, Comedy, Dating Sim, Fangame, Parody, Romance, Slice Of Life, Story Rich, vnmaker |
| Links | Twitter, Discord DMs, Discord Server |
Download
Click download now to get access to the following files:
Mac Version -Google Drive